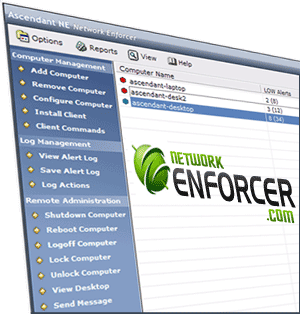 Protect Network Assets

Network Enforcer protects your network and asset security. Network Enforcer network security software accomplishes this through strict user behavior filters that allow you to govern what users are not allowed to do, and how many times they can get away with it before you are alerted, and Network Enforcer takes preventative action.

Increase User Productivity

Network Enforcer will increase your user productivity with activity filtering and blocking, to alerting the user they have done something wrong. Network Enforcer ensures your employees stay on task and do not deviate - all without violating their privacy.

Save Money and Time

Network Enforcer is a cost-effective endpoint security solution that is unmatched in its field. Combining specific user behavior tracking with real time response mechanisms, Network Enforcer can save you an enormous amount of time and money.